BACK TO RESULTS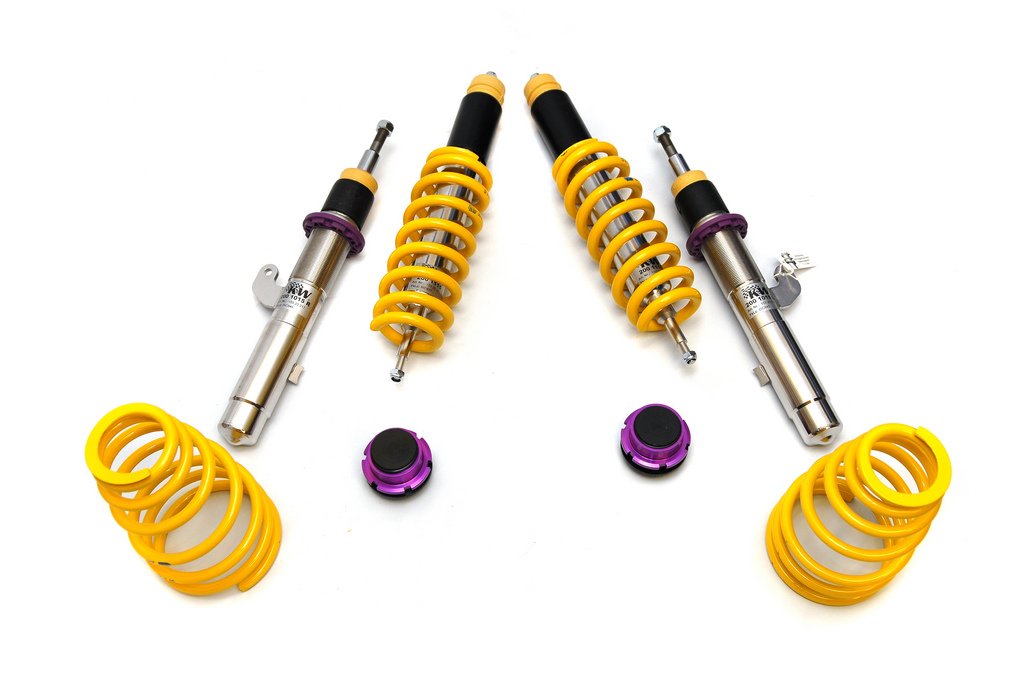 ---
KW Coilover Kit Audi TT Quattro (8J) without Magnetic Ride - Variant 3
SKU:
35281031
---
KW Variant 3: Race technology for the road, with adjustable compression and rebound dampening.
State of the art motorsport technology enables better performance on the streets. The independently adjustable compression and rebound dampening allows for custom driving setups.
The exclusive KW patented system has dual level valves that allow for adjustment of the rebound dampening for your road comfort and the compression dampening that controls the driving dynamics.
Features
Rebound and compression damping adjustable damper technology
Stainless steel technology inox-line
Individual, continuous lowering
Tested adjustment range
High-quality components for a long life
Complete documentation for an easy handling
Adjustable rebound damping with 16 exact clicks
Adjustable compression damping with 12 exact clicks
Unique, independent from each other working damping force adjustment
Lowering adjustment ranges
Front from 0.6" to 1.4"
Rear from 0.4" to 1.4"
Installation
Listing of all vehicles this part can be used with (for cars with a strut diameter at the front axle of 2.16"
| Year | Make | Model/Submodel | Engine | Details |
| --- | --- | --- | --- | --- |
| 2008 | Audi | TT Quattro Base | 3.2l V6 CBRA | AWD, Coupe |
| 2009 | Audi | TT Quattro Base | 2.0l L4 CCTA | AWD, Coupe |
| 2009 | Audi | TT Quattro Base | 3.2l V6 CBRA | AWD, Coupe |
| 2010 | Audi | TT Quattro Base | 2.0l L4 CCTA | AWD, Coupe |
| 2011 | Audi | TT Quattro Base | 2.0l L4 CETA | AWD, Coupe |
| 2014 | Audi | TT Quattro Base | 2.0l L4 CETA | AWD, Coupe |
| 2015 | Audi | TT Quattro Base | 2.0l L4 CETA | AWD, Coupe |
| 2012 | Audi | TT Quattro Premium Plus | 2.0l L4 CETA | AWD, Coupe |
| 2013 | Audi | TT Quattro Premium Plus | 2.0l L4 CETA | AWD, Coupe |
| 2012 | Audi | TT Quattro Prestige | 2.0l L4 CETA | AWD, Coupe |
| 2013 | Audi | TT Quattro Prestige | 2.0l L4 CETA | AWD, Coupe |
| 2012 | Audi | TT Quattro RS | 2.5l L5 CEPB | AWD, Coupe |
| 2013 | Audi | TT Quattro RS | 2.5l L5 CEPB | AWD, Coupe |
| 2009 | Audi | TT Quattro S | 2.0l L4 CDMA | AWD, Coupe |
| 2010 | Audi | TT Quattro S | 2.0l L4 CDMA | AWD, Coupe |
| 2011 | Audi | TT Quattro S | 2.0l L4 CDMA | AWD, Coupe |
| 2012 | Audi | TT Quattro S | 2.0l L4 CDMA | AWD, Coupe |
| 2013 | Audi | TT Quattro S | 2.0l L4 CDMA | AWD, Coupe |
| 2014 | Audi | TT Quattro S | 2.0l L4 CDMA | AWD, Coupe |
| 2015 | Audi | TT Quattro S | 2.0l L4 CDMA | AWD, Coupe |